Eyeshadow
What colour are your eyes today?
Eyes needn't have just one colour: choose from a whole palette of natural shades.
Show more
No results were found for the filter!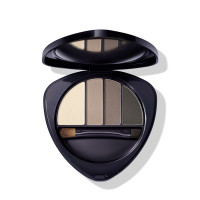 Eye & Brow Palette
one palette with many uses
includes an applicator for eyelids and brows
contains four velvety matte shades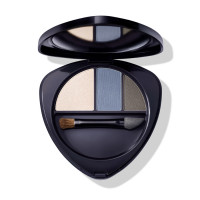 Eye Shadow Trio
eye-shadow palettes each containing 3 colours
complementary colours for a perfect look
silky, nourishing composition
4 different colour combinations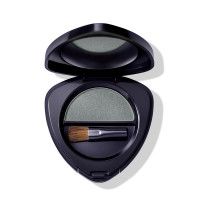 Eyeshadow
glossy eyeshadows
create striking accents
contain mineral pigments
available in five intense colours
From mono shades to entire palettes.
The mono Dr. Hauschka Eyeshadow is shimmering and expressive. Choose from five intense colours – which can be used alone or as an addition to our palettes. Here, you also have a choice: our four Eyeshadow Trios each contain three complementary shades. Alternatively, you can opt for the Dr. Hauschka Eye & Brow Palette with its four earthy and velvety matte tones.
Dr. Hauschka natural cosmetics: velvety, silky eyeshadows.
All Dr. Hauschka eyeshadows contain mineral pigments, plant extracts and silk powder. This makes them particularly gentle and caring on the sensitive eye area – in a way that only natural cosmetics can be. The plant extracts contained in Dr. Hauschka eyeshadows are produced in-house. A key ingredient in our eye make-up is black tea, chosen for its soothing and strengthening properties.
What's your eyeshadow mood today? Blue or nude?
Blue Eyeshadow is a classic that we at Dr. Hauschka simply had to include. Try our mono Eyeshadow in luminous aquamarine or the sapphire Eyeshadow Trio. Each trio, as well as our Eye & Brow Palette, contains an all-purpose lighter shade that provides the perfect nude Eyeshadow for various skin tones.
Eyeshadow application made easy.
The best way to apply Eyeshadow is with a brush – like our Eyeshadow Blender Brush , for example. Every Dr. Hauschka Eyeshadow palette contains a double-ended applicator and each mono Eyeshadow comes with a small Eyeshadow brush. Plus, all Dr. Hauschka eyeshadows include a mirror – so you have everything you need for application on the go.