Origins
A free spirit.
Vienna, Stockholm, India, Eckwälden: Elisabeth Sigmund was no stranger to new beginnings, yet never strayed from her own path. A pioneer in natural cosmetics and much more, she had no interest in conventions. We tell her life in four chapters.
Vienna: Where a love of flowers blossoms
Has the seed of an idea ever taken root in your head and started to grow? This is what happened to Elisabeth Sigmund when she first inspected her mother's dressing table. It must have been around 1920, as a primary school child, when she first smelled the porcelain box with its almond paste and the witch hazel Facial Toner. Her fascination with the secrets of plants and their ability to help people achieve beauty and well-being probably awoke in one of those quiet moments. And out of it grew something much bigger: a life's calling.
Her grandmother would lead the little girl through her garden, telling her all about the flowers and teaching her the formula for Crème Céleste – a face cream from her Czech homeland. In her father's study, Elisabeth discovered a notebook full of pressed flowers that she would pour over time and again. And in the nearby plant nursery, she learned how to recognise shrubs by their scent. The village pharmacist showed her how to make emulsions by mixing water-based and oil-based components, to which Elisabeth added rose petals and essential oil. "I didn't like the creams that were on sale, so I wanted to create my own with ingredients that I liked," she later explained.
But it was only when Elisabeth Sigmund was two semesters into her medical studies and came across some passages by Rudolf Steiner that this interest took on a new quality. Steiner wrote that beauty is something that reveals its inner being in its outer appearance. These words mixed with her own ideas to form a meaningful whole. From then on, Elisabeth Sigmund no longer saw beauty as an outward appearance. Her love for medicinal plants and aesthetics became the Foundation of her cosmetics.
She took courses with cosmetics companies and hunted out old medical books in the university library: "My cosmetic experiments were always motivated by a medical interest in which medicinal plants were good for the skin and which had almost curative properties." Her mother forbade her to talk to others about her profession, which she deemed "improper". But this did not deter Elisabeth Sigmund. She would get on her motorbike, drive out to convent libraries in the countryside and continue her research.
Stockholm: Her own natural cosmetics and the "Salong för Skönhetsvård"
Her new start in Stockholm in 1948 was not easy. Elisabeth and her husband Karl had decided to emigrate to Sweden and set up a new life. Her husband made a living as a petrol pump attendant, and eventually worked as a driving instructor. But, still driven by her passion, Elisabeth picked herself up and continued mixing plant extracts with beeswax or almond oil – ingredients she ordered in organic quality from Germany and Austria. Karl built bottling equipment.
Her cosmetics were intended to support the skin by stimulating its own regenerative powers. And the women that received Elisabeth Sigmund's creations were delighted with the results. When Elisabeth opened a cosmetic studio, the Salong for Skönhetsvård, she also offered her customers treatments such as footbaths, facial exercises, and stimulation of the lymphatic system. The aim was to help women achieve total relaxation. "There are two kinds of beauty – inner and outer," she once said, explaining her holistic approach. She had turned her dream into a reality.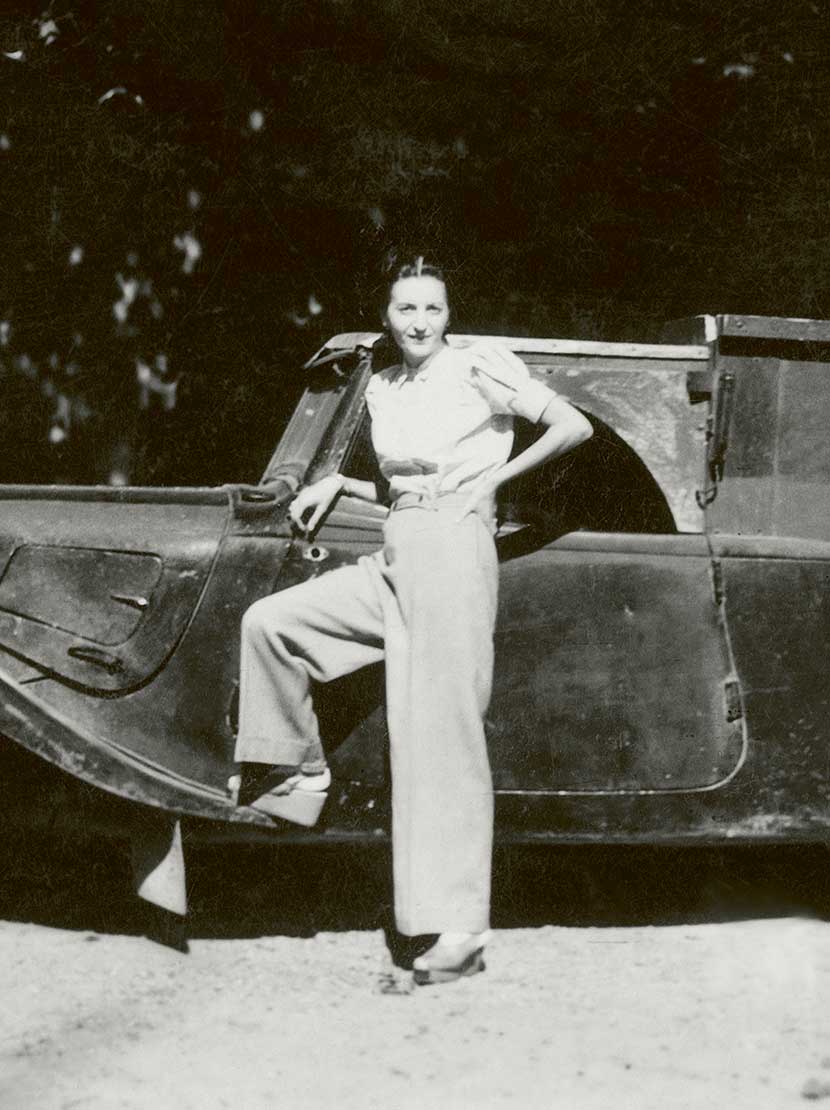 India: Following her heart and expanding her cosmos
What was it that took Elisabeth Sigmund to India for a year in 1961? The opportunity! Sigmund loved learning about new cultures. She also wanted to study Indian medicine and visit their vast libraries. This combination of wanderlust and thirst for knowledge is testament to her self-confidence, courage and open-mindedness. She was a modern woman who was ahead of her time. The son of a friend was in New Delhi at the time, meaning that Elisabeth Sigmund had a contact in India and could finally visit a country she had longed to see ever since reading about it as a child. Despite an unfortunate start (the plane landed in Mumbai instead of New Delhi, her luggage got lost, and she found herself standing alone on the street), Elisabeth Sigmund did not turn back.
She spent hours in the university library, discovered medicinal plants that could not be found in Europe, went to markets, bought new plant ingredients, and encountered brand new concepts. She had a doctor teach her Ayurvedic medicine and learned about the nourishing properties of neem, the sacred Indian tree. All this knowledge she would later pour into her formulations.
Eckwälden: Natural cosmetics for the world
In 1962, when Elisabeth Sigmund learned that WALA was looking for estheticians to help develop cosmetic products, she wrote an eleven-page application letter. Just a few weeks later she travelled to Eckwälden, spoke about her passion for the healing and aesthetic powers of plants – and the WALA developers were ready to hire her straight away. From that moment on, it was not only visitors to her Stockholm salon who would benefit from her ideas!
Five years later, the brand "Dr. Hauschka Healing Skin Care by Elisabeth Sigmund" was launched. The range included a face milk, rose cream, and body power. Her cosmetics were in great demand, with orders even coming in from South Africa.
Time for another new start: In 1969, Elisabeth Sigmund moved with her husband to Eckwälden. Forever driven by passion, she would go on to develop new products, give presentations and train estheticians. "Our face is the first thing we reveal," she said. Even at the age of 99, shortly before her death in 2013, Elisabeth Sigmund was never seen in public without make-up. Her favourite item was a pink Dr. Hauschka Lipstick.
Laid-back charm: By the way, we have relaunched Elisabeth Sigmund's favourite Lipstick as Dr. Hauschka Lipstick No. 22 millionbells.